Hazmat Suit
Hazmat Suit
| | |
| --- | --- |
| Mod | |
| Type | Armor |
| Durability | N/A |
| Renewable | ? |
| Stackable | No |
The Hazmat suit is capable of preventing the person who wears it from receiving radiation and thus prevents Radiation Sickness. One must wear the entire suit in order to have full protection. It is a must have component to make ensure your safety when working with Nuclear Reactors.
Obviously you will need to check your reactor or add more Uranium in it, so you must have protection against radiation.
In the presence of radiation, the suit's durability will decrease. The Hazmat suit must be worn at all times to offer protection. The player will not be protected if one or more Hazmat suit pieces are not worn.
In the 1.1.3 Voltz update, the crafting recipe changed from steel plates to wool of any color.
Recipes
 

 
 

 
Video Tutorial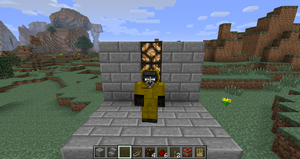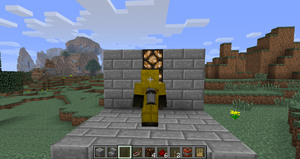 See also
Machines
Electric Items
Generator
Miscellaneous
---