Platinum Compressor
{{{text}}}
Platinum Compressor
| | |
| --- | --- |
| Mod | |
| Type | Ingot Processing |
| Input Voltage | 120v |
| Output Voltage | N/A |
| Capacity | N/A |
| Tool | |
| Stackable | 64 |
The Platinum Compressor is used to make special ingots like Glowstone (Ingot), Redstone (Ingot), and Obsidian (Ingot).
Place a Platinum (Ingot) in the bottom slot. This Ingot will be processed and placed into the internal inventory of the compressor. Place a Redstone (Dust), Glowstone (Dust) or Obsidian (Dust) in the bottom slot. The Compressor will then compress the platinum into a new Ingot.
Platinum has been renamed Osmium in new versions of Mekanism.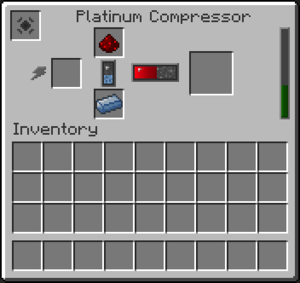 Crafting
Video Tutorial
Energy Storage
Generators
Machines
Ingots
Dusts
Upgrades
Miscellaneous
Armor
Tools
Weapons
Decorative Blocks
Magic
Ore
Removed
---