Enrichment Chamber
Enrichment Chamber
| | |
| --- | --- |
| Mod | |
| Type | Ore Processing |
| Input Voltage | 120v |
| Output Voltage | N/A |
| Capacity | N/A |
| Tool | |
| Stackable | 64 |
The Enrichment Chamber is one of the staple machines in the Mekanism Mod. It allows the user to create dusts from any mined ores, this is an efficient step to take as one ore will be processed into 2 dusts doubling its yield.
It can also be used to create Obsidian (Dust), which can be used in the Platinum Compressor to make Obsidian (Ingot)
Power Usage
The Enrichment Chamber will use 4.8KW at peak operation.
Usage
The Enrichment chamber needs at least 120 V in order to work. After hooking up the machine to the electricity (or using a full battery), place the raw ores in the top slot.
Notes
This machine currently will go through the process of enriching coal but will give back the coal ore at the end. The enrichment chamber will not process Saltpeter, monazit, sulfer, emerald or uranium Ores.
The machine will process gold, iron, copper, silver, tin and redstone ores yielding 2 dust for each all of which are able to be smelted. Diamond and lapis lazuli ore are the only ores that will yield items (not dust) from processing. Diamond ore will yield 2 diamonds and lapis lazuli will yield 12 items.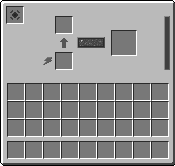 Crafting
Tutorials
Energy Storage
Generators
Machines
Ingots
Dusts
Upgrades
Miscellaneous
Armor
Tools
Weapons
Decorative Blocks
Magic
Ore
Removed
---